Socks!
I promised pictures! I was finally prodded into taking one. I started a second one. I can hear the howls of anguish out there. NO! You immediately cast on for the SAME SOCK!!!!
Well phooey on you. ;) Here's my socks: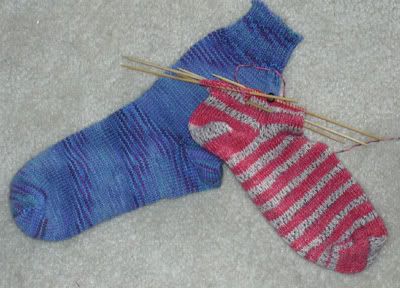 I can hear a few of you going "Oh NO! It's the Pink Sock Yarn of DOOM!" It is!!!! But this time I'm going to finish it comma damn it. I've already gone around the heel!!
I have to point out the short row toes: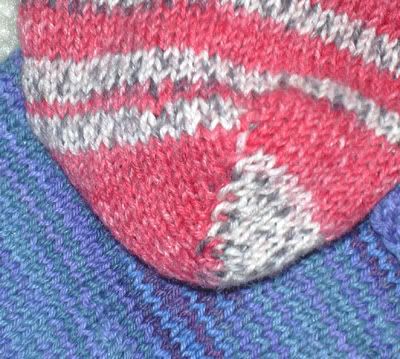 and, not to be left out, the short row heels: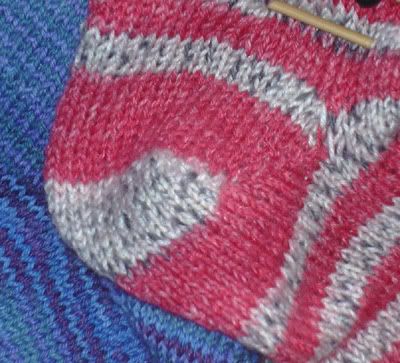 I had the fabulous timing of
Wendy
working on some socks at the same time and she went over how she picks up the wrapped stitches for the short rows in
this post here
. Thus, my short rows are neater on this second sock than the first. I'm also watching fit very closely this time around and already it's fitting better. I'm going to try the
Picot Point Chain Edging by Nona
as a cast off for these. Why? Because I'm dumb. I dunno. I can try it and if it's a bad idea or just....not good....I can always rip the cast off back and do the E.Z. one. Either way, it's making me far more confident.
Yarn for each: the blue is Lorna's Laces Shepard Sock in Tahoe and the pink is Opal....something. Opal sock yarn, I don't know where the band for it is. :)